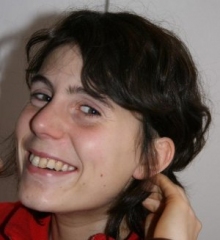 Veerle Segers became interested in Biomechanics in the final year of her Masters in Physical Education and wrote a dissertation on the biomechanics of humans galloping downstairs. She received her Masters degree with the highest distinction at the Ghent University (Belgium) in July 2001.
In 2002 she started her Ph.D. project entitled 'a biomechanical analysis of the realization of actual human gait transition' with the aid of a scholarship (BOF-RUG B/03796/01-IV1). This Ph.D. was realized at the Ghent University, Faculty of Medicine and Health Sciences, Department of Movement and Sports Sciences, under the supervision of Prof D. De Clercq. She used a full kinesiological analysis to gain insights in how and why humans change gait when speed is altered. Veerle presented at a number of national and international conferences and recently published in Gait and Posture (vol. 24, 247-254; vol. 25, 639-647) and the Journal of Experimental Biology (vol. 210, 578-585).
In March 2007, Veerle started her postdoctoral research at Ghent University, in which she will continue to explore the human gait transition. Her research was the starting point for two other promising Ph.D. projects in the field of human gait transitions (Philippe Malcolm and Kristof De Smet) which she will guide and assist.
Veerle's research interests are biomechanics, gait transition, locomotion in general, motor control and modeling.