Overview
I hope that everyone is staying safe and healthy with the current worldwide pandemic. I wanted to share a few things with you for this student corner. With the uncertainty of the pandemic, I am planning for both an in-person and virtual student event as well as a mentor event for ISB 2021. That way, if you are not allowed to travel because of safety concerns or travel bans, we will have an event for you!
ISB is looking to provide some stories from students about how COVID-19 has impacted your research and what you have done to carry-on, as well as any positives that have come from this experience. We would like to have students be reflected from all parts of the world. If you would like to share, please research out!
The call for abstracts for ISB 2021 has opened!! I hope you all are as excited as I am for this upcoming conference! The abstract submission will be open until January 31, 2021, so let's all get working on new, fun, interesting research ideas! J If you would like to discuss some potential ideas or have any further questions regarding the abstract submission process, please send me an email, message me on Facebook or Twitter, and I will help you out!
We have some great ideas for both the student event at ISB 2021 and the mentoring event! Be on the lookout for more information as the date gets closer! I cannot wait to see all of you in Stockholm!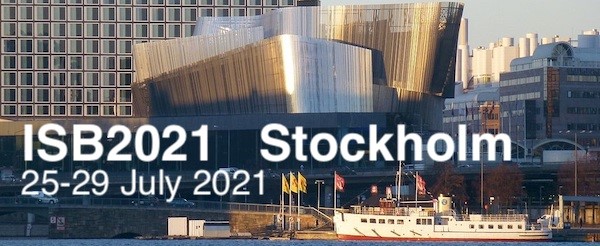 Upcoming Events
April 11th – 14th, 2021: iFAB 2021 - International Foot and Ankle Biomechanics Meeting
July 11th-14th, 2021: ESB: European Society of Biomechanics Annual Conference
July 15th-16th, 2021: Asia-Singapore Conference on Sport Science
August 9th-13th, 2021: Canadian Society of Biomechanics Conference
December 2021: Australasian Biomechanics Conference (ABC12)
Information / Jobs
For any and all graduate positions and employment, remember to stay up to date with Biomch-L.
Here is the link: https://biomch-l.isbweb.org/forums/5-Jobs-and-Positions
Biomechanics on our Minds (BOOM) Podcast

Student Voices 13: International Womxn in Biomechanics
Student Voices 12: Biomechanics in Major League Baseball
Episode 35: Enhancing Athletic Performance and Injury Prevention
Episode 34: Run Signature and Research in Industry
Social Media
Be sure to keep up to date with ISB by liking our ISB Facebook Page, joining the Student Members Facebook Page, and following ISB on Twitter. Please reach out to me with any comments, questions, suggestions, or just to talk. You can contact me at: This email address is being protected from spambots. You need JavaScript enabled to view it..
Best Wishes,
Megan Stewart (ISB Student Representative)